PENGARUH SELF AFFICACY TERHADAP HASIL BELAJAR MATEMATIKA DASAR MAHASISWA PGMI STAI DARUL ULUM KANDANGAN
Nor Asyriah

STAI Darul Ulum Kandangan
Abstract
Abstract
               Mathematics as one part of the disciplines studied at every level of education. The learning process will occur effectively if all internal factors and external factors are regarded by the teacher. One of the internal factors is self-efficacy which includes task difficulties, anxiety, stress, strength and belief overcoming. This study aims to determine whether self-efficacy affects basic mathematics learning achievement for the third semester students PGMI of STAI Darul Ulum Kandangan for the academic year 2020/2021. This research is a correlational research with a quantitative approach. The data collection instrument used was a self-efficacy questionnaire, the final grades of basic mathematics courses obtained through documents and interview guidelines. The analytical technique used is descriptive statistical analysis (simple correlation coefficient). The sample taken was was 40 students of PGMI STAI Darul Ulum Kandangan. The results of the analysis based on the product moment analysis test stated that there was no significant effect of self-efficacy on the basic mathematics learning achievement the third semester students PGMI of STAI Darul Ulum Kandangan for the academic year 2020/202. the result showed that the t value was 0.726 at the 5% significance level and the t. table was 2.021. because student self-efficacy is effected by other factors, namely online learning.
Keywords: Self Efficacy, learning achievement, basic mathematic, PGMI
References
Bandura, Albert. (1997). Self-Efficacy The Excercise of Control. USA: W. H Freeman and Company.
Hamdi , Syukrul dan Agus Maman Abadi. (2014). "Pengaruh Motivasi Self-Efficacy dan Latar Belakang Pendidikan Terhadap Prestasi Matematika Mahasiswa PGSD STKIP-H dan PGMI IAIH". Jurnal Riset Pendidikan Matematika. Vol. 1 (1), pp: 77-87.
Hartono, Dwi Rachmawati. (2012). Pengaruh Self Efficacy Terhadap Tingkat Kecemasan Mahasiswa Fakultas Kedokteran Universitas. Skripsi. Surakarta: Universitas Sebelas Maret.
Husna, Raudhatul et all. (2018). "Pengaruh Self Efficacy terhadap Hasil Belajar Matematika Siswa di Kelas X SMK SMTI Banda Aceh". Jurnal Ilmiah Mahasiswa Pendidikan Matematika. Vol. 3 (2), pp: 43-48.
Komsiyah, Indah. (2012). Belajar dan Pembelajaran. Yogyakarta : TERAS.
Kusaeri. (2011). "Transformasi Nilai-Nilai Karakter Melalui Pelajaran Matematika di Sekolah". Aksioma: Jurnal Matematika dan Pendidikan Matematika. Vol. 2(1), pp: 21-32.
Masykur, Moch & Abdul Halim Fathani. (2008). Mathematical Intelligence. Jogjakarta: ArRuzz Media.
Nuriah. (2010). Pengaruh Self Efficacy terhadap Hasil Belajar Mahasiswa Pendidikan Ekonomi Angkatan 2010. Skripsi. Riau: Universitas Riau.
Pertiwi, Nirwana Gita. (2015). Pengaruh Self Efficiacy Terhadap Hasil Belajar Pada siswa Kelas V Sekolah Dasar Daerah Binaan IV Kecamatan Cilacap Selatan Kabupaten Cilacap, Tesis. Semarang: UNNES.
Setyono, Ariesandi. (2007). Mathemagics Cara Jenius Belajar Matematika. Jakarta: Gramedia Pustaka Utama.
Shadiq, F. (2014). Pembelajaran Matematika (Cara Meningkatkan Kemampuan Berpikir Siswa). Yogyakarta: Graha Ilmu.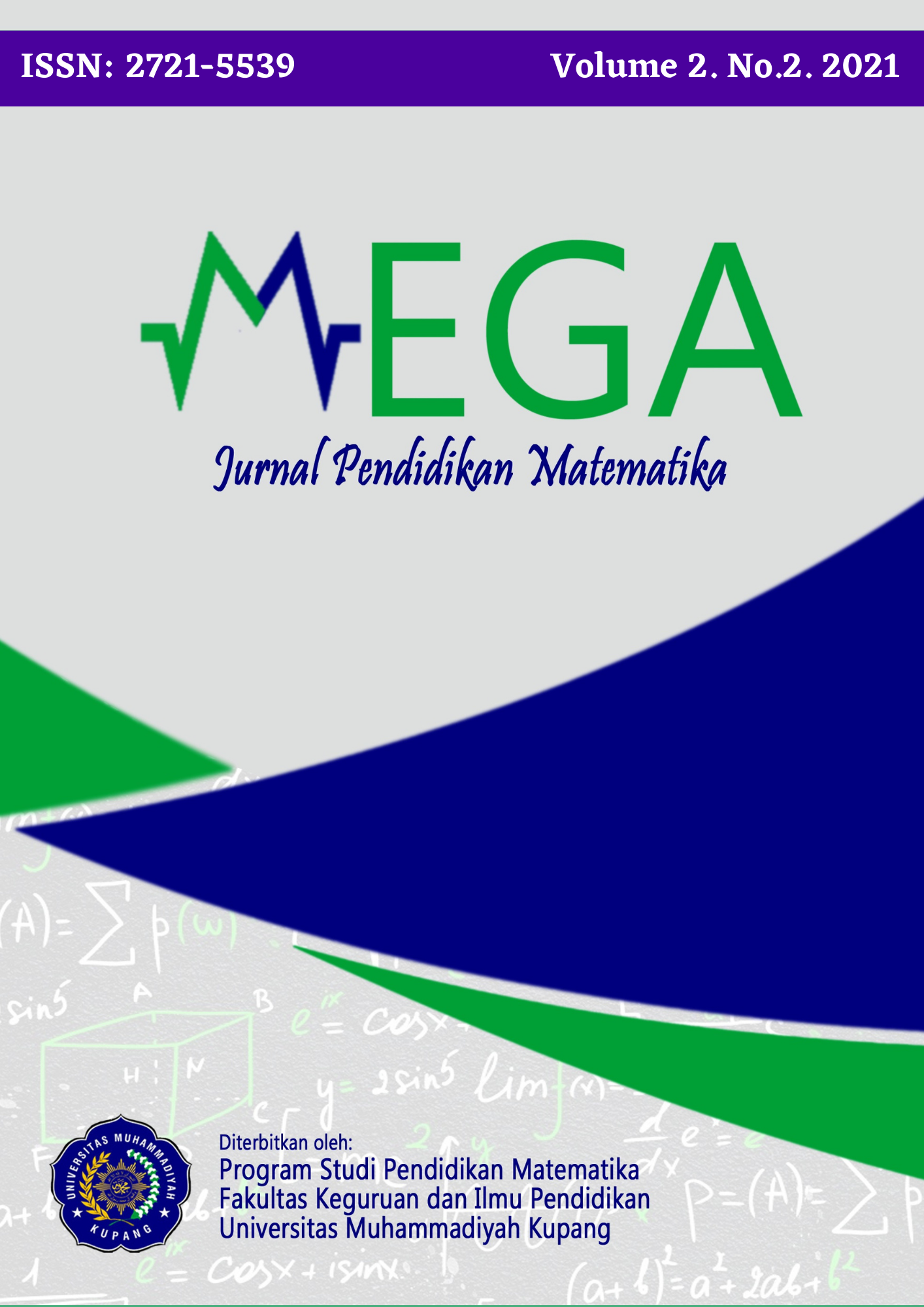 How to Cite
Nor Asyriah. (2021). PENGARUH SELF AFFICACY TERHADAP HASIL BELAJAR MATEMATIKA DASAR MAHASISWA PGMI STAI DARUL ULUM KANDANGAN. MEGA: Jurnal Pendidikan Matematika , 2(2), 1-10. Retrieved from https://e-journal.unmuhkupang.ac.id/index.php/mega/article/view/487