PENERAPAN PENDEKATAN PEMBELAJARAN MATEMATIKA KONTEKSTUAL UNTUK MENINGKATKAN HASIL BELAJAR MATEMATIKA PADA MATERI PERSAMAAN LINEAR SATU VARIABEL KELAS VII SMP NEGERI SATAP NEOFMOLO
Adriana Maria Mokos

Sekolah Menengah Agama Kristen Loli
Keywords:
Contextual Mathematics Learning Outcomes, Learning Outcomes
Abstract
This study aims to study the learning outcomes of mathematics in eighth grade students of Neofmolo Satap State Junior High School in the contextual Linear One Variable material. This type of research is Classroom Action Research. The subjects in this study were eighth grade students at Neofmolo Satap Public Middle School in odd semester receiving 26 people. This research was conducted on November 29 to December 7, 2019 which was conducted in two cycles, with the number of students in cycle I as many as 25 people and cycle II as many as 26 people, each cycle consisting of planning, implementation, interaction, and reflection . Data on each cycle and data on learning outcomes taken from the test results at the end of each cycle. Based on the results of data analysis shows there is an increase in student learning outcomes. This can be demonstrated through the increased test results in each cycle, namely in the first cycle of 25 students, who achieved completeness by 8 students or 32% in cycle II of 26 students, who achieved mastery by 20 students or 76.92%. Likewise, the activities of teachers and students showed an increase in the learning process. This can be seen from the observation sheet of teachers and students in each cycle. Thus it can cancel the learning of mathematics with contextual learning can improve student mathematics learning outcomes.
References
Annas, Dinawati, Suharto. (2013). Penerapan Pembelajaran Contextual Teaching And Learning (CTL) Berbasis Pemecahan Masalah Model Polya Untuk Meningkatkan Hasil Belajar Siswa Kelas Viii Smp Negeri 5 Jember Sub Pokok Bahasan Sistem Persamaan Linear Dua Variabel Tahun Ajaran 2012/2013 Pancaran. Jurnal Penerapan,2(1),71-82.
Mamoh, Oktovianus. (2017). Meningkatkan Prestasi Belajar Matematika Melalui Pembinaan Berpikir Logis Dalam Pembelajaran Pada Siswa SMP. Prosiding Konferensi Nasional Penelitian Matematika dan Pembelajarannya II (KNPMP II),455-464.
Mamoh, Oktovianus dkk. (2019). Bimbingan Teknis (BIMTEK) Karya Tulis Ilmiah Bagi Guru-guru SD Se-Kecamatan Miomaffo Barat. Jurnal Pengabdian Bakti Cendana UNIMOR vol2 (no 1), hal 8-12.
Siti Halimah. Strategi pembelajaran pola dan strategi pengembangan dalam KTSP.Bandung: Citapustaka Media Perintis.2008.h,121-122.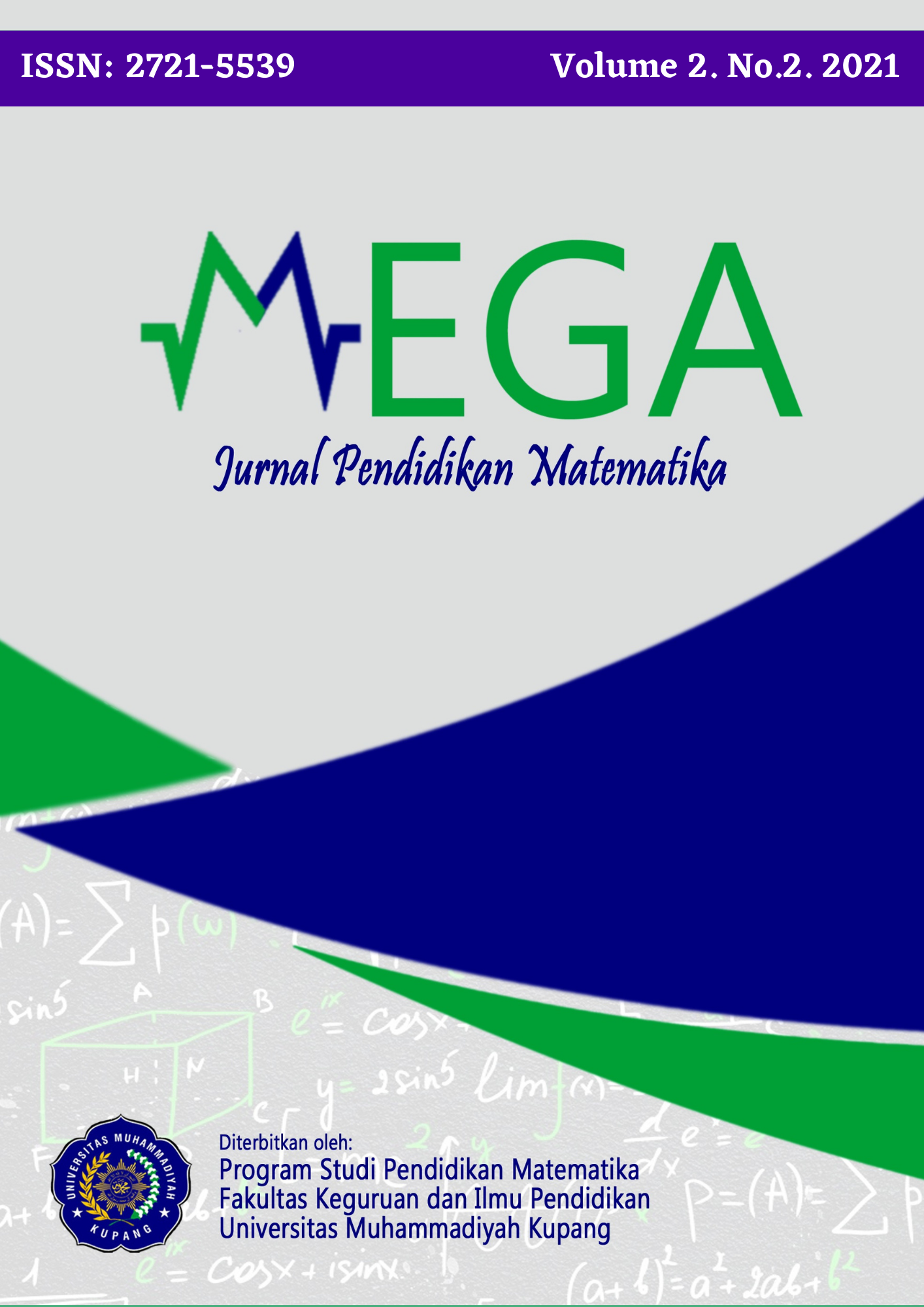 How to Cite
Mokos, A. M. (2021). PENERAPAN PENDEKATAN PEMBELAJARAN MATEMATIKA KONTEKSTUAL UNTUK MENINGKATKAN HASIL BELAJAR MATEMATIKA PADA MATERI PERSAMAAN LINEAR SATU VARIABEL KELAS VII SMP NEGERI SATAP NEOFMOLO. MEGA: Jurnal Pendidikan Matematika , 2(2), 267-279. https://doi.org/10.59098/mega.v2i2.494