PENINGKATAN KEMAMPUAN KONEKSI MATEMATIKA DAN MINAT BELAJAR MATEMATIKA SISWA SMP MUHAMMADIYAH KUPANG DENGAN MODEL PMRI
Sopia Maanana

Universitas Muhammadiyah Kupang

Uke Ralmugiz

Universitas Muhammadiyah Kupang

Agustin Fatmawati

Universitas Muhammadiyah Kupang
Keywords:
Connection capabilities, Interests, PMRI models
Abstract
This study aims to find out whether the application of the PMRI learning model can improve the ability of mathematical connections and mathematics learning interest in SMP Muhammadiyah Kupang students. The research used was Classroom Action Research (CAR) with the PMRI learning model. The subjects and objects in this study were 24 students in class VIIA Muhammadiyah SMP Muhammadiyah Kupang. Data collection techniques and instruments used by researchers are the final test questions to find out the ability of mathematical connections and questionnaire sheets to determine student learning interest. The data analysis technique conducted in this study is to draw conclusions from the data obtained, namely the results of the interview, the results of student evaluation and the questionnaire of mathematics learning interest. The results of research conducted in two cycles showed an increase in the ability of students' connections and learning interest through the PMRI approach. Mathematical connection capability test results increased with initial data with an average of  46.17 to 69.62 in cycle 1 then in cycle 2 to 77.29. And mathematics learning interest from the initial condition 41.66% to 70.83% in cycle 1 then in cycle 2 to 87.5%
References
Abuddin, Nata, 2014, Tafsir Ayat-AyatPendidikan. Jakarta: Rajawali Pers.
Besti Dina, 2017, Upaya Meningkatkan Kemampuan Komunikasi Matematika Menggunakan Pendekatan Pendidikan Matematika Realistik Indonesia (PMRI) Ditinjau Dari Jenis Kelamin Siswa Mts Muhammadiyah Suka Rame Bandar Lampung.
Kusumaningrum, Dwi sulistya, 2016,Peningkatan Memampuan Penalaran Dan Kemandirian Belajar Matematik Melalui Pendidikan Patematika realistik Indonesia (PMRI).
Susanto, Ahmad, 2013, Teori Belajar Dan Pembelajaran Di Sekolah Dasar. Prenadamedia Group. Jakarta.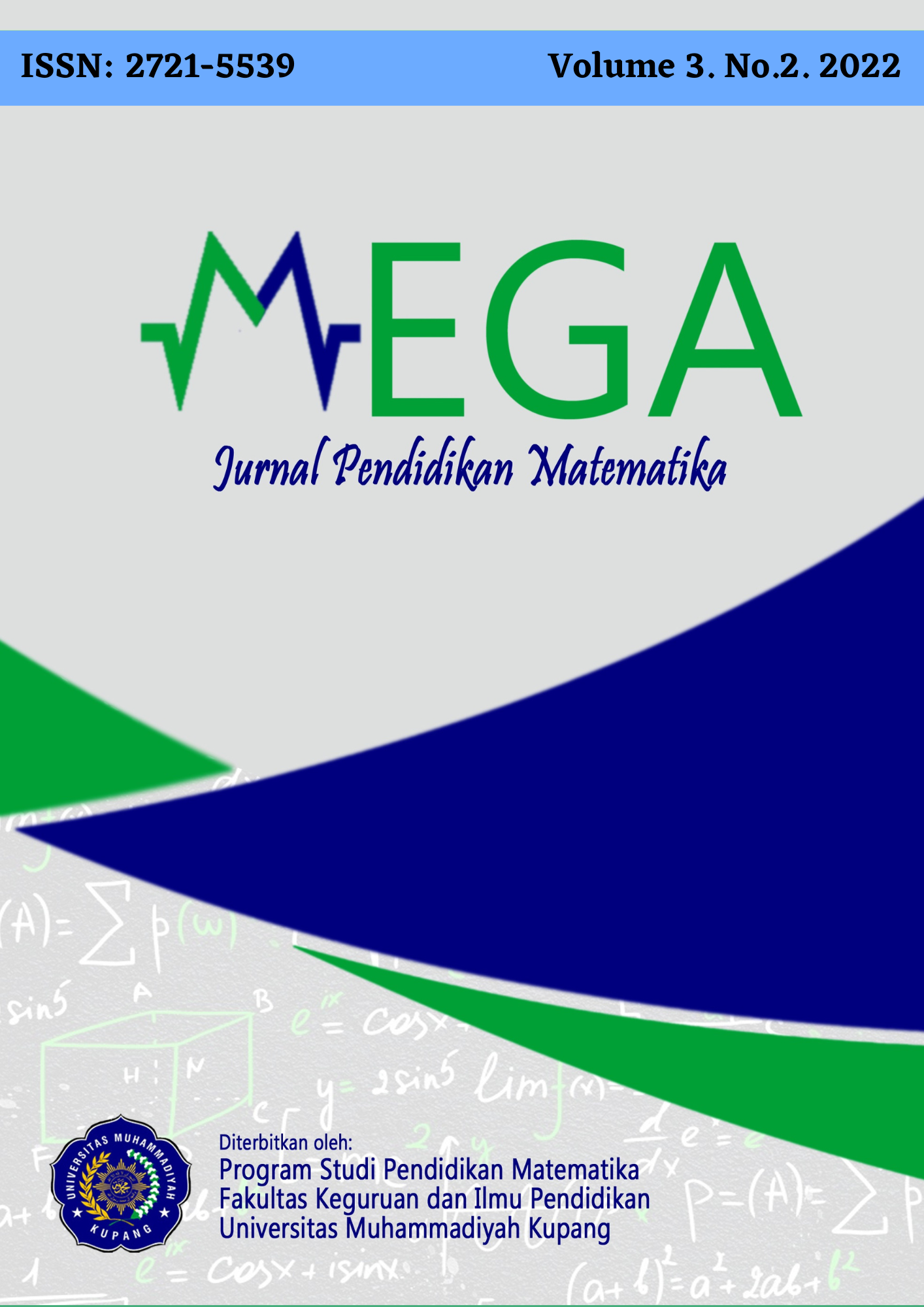 How to Cite
Maanana, S., Ralmugiz, U., & Fatmawati, A. (2023). PENINGKATAN KEMAMPUAN KONEKSI MATEMATIKA DAN MINAT BELAJAR MATEMATIKA SISWA SMP MUHAMMADIYAH KUPANG DENGAN MODEL PMRI. MEGA: Jurnal Pendidikan Matematika , 3(2), 62-70. Retrieved from https://e-journal.unmuhkupang.ac.id/index.php/mega/article/view/831