ANALISIS PROSES BERPIKIR KRITIS SISWA DALAM PEMECAHAN MASALAH MATEMATIKA PADA POKOK BAHASAN POLA DAN BARISAN BILANGAN
Nia Kurniaty Rukman

Universitas Muhammadiyah Kupang

Ryan Nizar Zulfikar

Universitas Muhammadiyah Kupang

Romanti Ester Noel

Universitas Muhammadiyah Kupang
Keywords:
Critical Thingking Process, Solution to Problem, Mathematical Ability High, Medium and Low
Abstract
This study aims to analyze how students' critical thingking processes in solving mathematical problems on the subject of patterms and sequences of numbers of students at SMP N 3 Fatuleu Tengah Satap. This study used a qualitative  descriptive approach. Class VIII at SMP N 3 Fatuleu Tengah Satap, in solving patern and number sequence material questions the instrument provided in this study were 1) Critical Thingking test sheets, 2) Interviews, 3) Documentation. Documentation data analysis in this study,namely, 1) Data reducation, 2) presentation of data, 3) drawing conclusion/verivication based on data analysis, it can be concluded that 3 students with high mathematical abilities can go thourgh 4indicators and stages of the critical thingking process consisting of clarification (understand the problem), analysis (analysis the problem). Completion strategies (solving problems), and inference (making conclusions) on medium mathematical abilities students only go through the clarification and analysis stages but do not fulfill the strategy and inference stages and students with low mathematical abilities, namely students who interprect critical thingking on the answer sheet but are incomplete in answering.
References
Abdullah, (2013). Berpikir kritis matematika. Delta-pi: jurnal Matematika dan Pendidikan Matematika, 2 (1), 66-75. https://doi.org/10.18860/jt.v0i0.1442
Juliant dan Novrianti K. (2016) Analisis Kesalahan Siswa Dalam Menyelesaikan Soal Pada Materi Pola dan Barisan Bilangan Ditinjau dari Kemampuan Matematika Siswa . Jurnal Riset Pendidikan, 2(2) 111-118. http://lib.unnes.cid/id/eprint/23368
Moleong,Lexy J. (Patton) (2011).Metedeologi Penelitian Kualitatif. Bandung: Remaja Rosdakarya. http://journal.um.ac.id/index.php/jptpp/articcel/view/10490
Jacob dan Sam. (2012).Measuring Critical Thigking In Problem Solving Through Online Discussion Forums In First Year University Mathematics. Procceding of the International Multi Converences of Engineers and Computer Scientist in Hongkong 19-21 March 2012.
Rachmanto, Ardian (2019) Proses Berpikir Kritis Dalam Pemecahan Masalah Pola Bilangan Berdasarkan Kerangka Kerja Norris dan Ennis. Undergraudate thesis, UIN, University College.
White Dermawan, (2010). Gifted Education: Thingking (With Help From Aristotle) About Critical Thingking. Summer, 33(3), 14-19.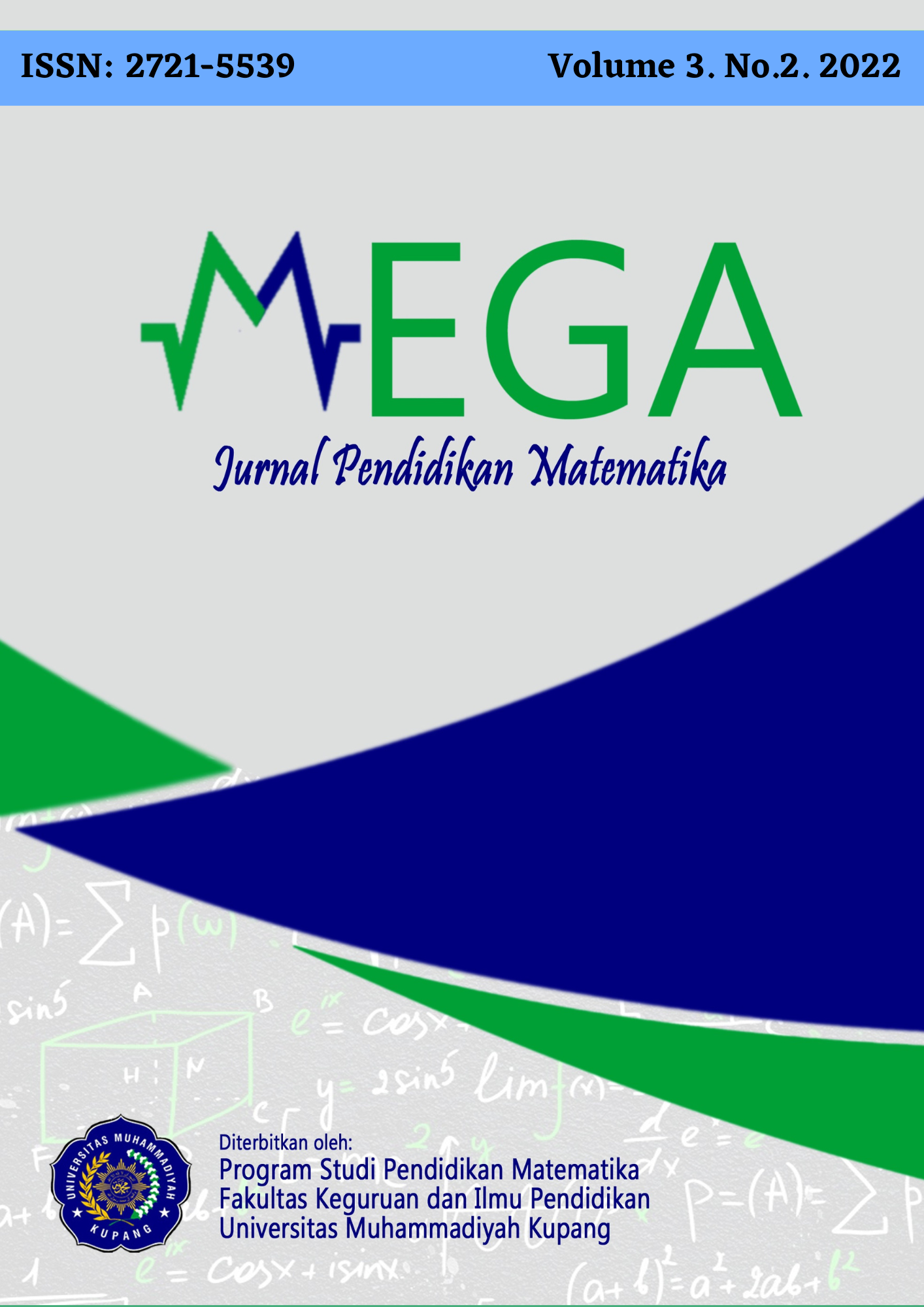 How to Cite
Rukman, N. K., Zulfikar, R. N., & Noel, R. E. (2023). ANALISIS PROSES BERPIKIR KRITIS SISWA DALAM PEMECAHAN MASALAH MATEMATIKA PADA POKOK BAHASAN POLA DAN BARISAN BILANGAN . MEGA: Jurnal Pendidikan Matematika , 3(2), 467-470. Retrieved from https://e-journal.unmuhkupang.ac.id/index.php/mega/article/view/832