PENGEMBANGAN VIDEO PEMBELAJARAN MATERI GARIS DAN SUDUT DENGAN MODEL DISCOVERY LEARNING UNTUK MENINGKATKAN KEMAMPUAN PEMECAHAN MASALAH MATEMATIS SISWA KELAS VII TAHUN AJARAN 2021/2022
Dahlia S. Kasim

Universitas Muhammadiyah Kupang

Uke Ralmugiz

Universitas Muhammadiyah Kupang

Maria Martini Aba

Universitas Muhammadiyah Kupang
Keywords:
Learning media, Discovery learning, Mathematic problem-solving ability
Abstract
The aims of this research were to determine the appropriate, practicality, and effectiveness of learning video for lines materials and angles by using discovery learning model to improve mathematical problem-solving ability for seventh grade students. Method here was research and development using ADDIE model (Analysis, Design, Development, Implementation, and Evaluation). Population was mathematic teachers and seventh grade students SMPK Sta. Maria Assumpta, Kupang. Sample was seventh grade students of A class. Trials was done to determine the practicality of learning video. Research instruments here was validation sheet, learning video, lesson plan, practicality sheet, questioner of study result test. the obtained data then analyzed its validity, practicality, and effectiveness. Results: validity scores, a) learning video: 3.45, b) lesson plan: 3.59, c) teacher respond questionary: 3.5, d) student respond questionary: 3.5. The average score for validity was 3.45 and the category was very valid. The learning video got good respond and the score was a) 3.45 for teacher respond questioner, b) 3.56 for student respond questioner. The average score of practicality was 3.55 and the category was very practical. The appropriate of learning video was obtained from the effectiveness of student KKM (70) and the average score of student learning outcome was 73.33%. From the data of validation result, analysis of questioner and student learning outcome show that the learning video for lines material and angles by using discovery learning model was very valid, very practical and effective.
References
Hanafiah. (2012). Konsep Strategi Pembelajaran. Bandung: Refika Aditama
NCTM. (2000). Curriculum and Evaluation Standars for School Mathematics,Unite States of America: The National Nouncil of Teachers of Mathematics Inc.
Sumartini, Tina Sri. (2016). Peningkatan pemecahan masalah matematis siswa melalui pembelajaran berbasis masalah. Jurnal pendidikan matematika volume 5, nomor 2, mei 2016.
Sugino. (2016). Metode Penelitan Kuantitatif, kualitatif dan R&D. Bandung: Alfabeta.
W.R.Dahar. (2011). Teori-teori belajar dan pembelajaran. Jakarta :Erlangga.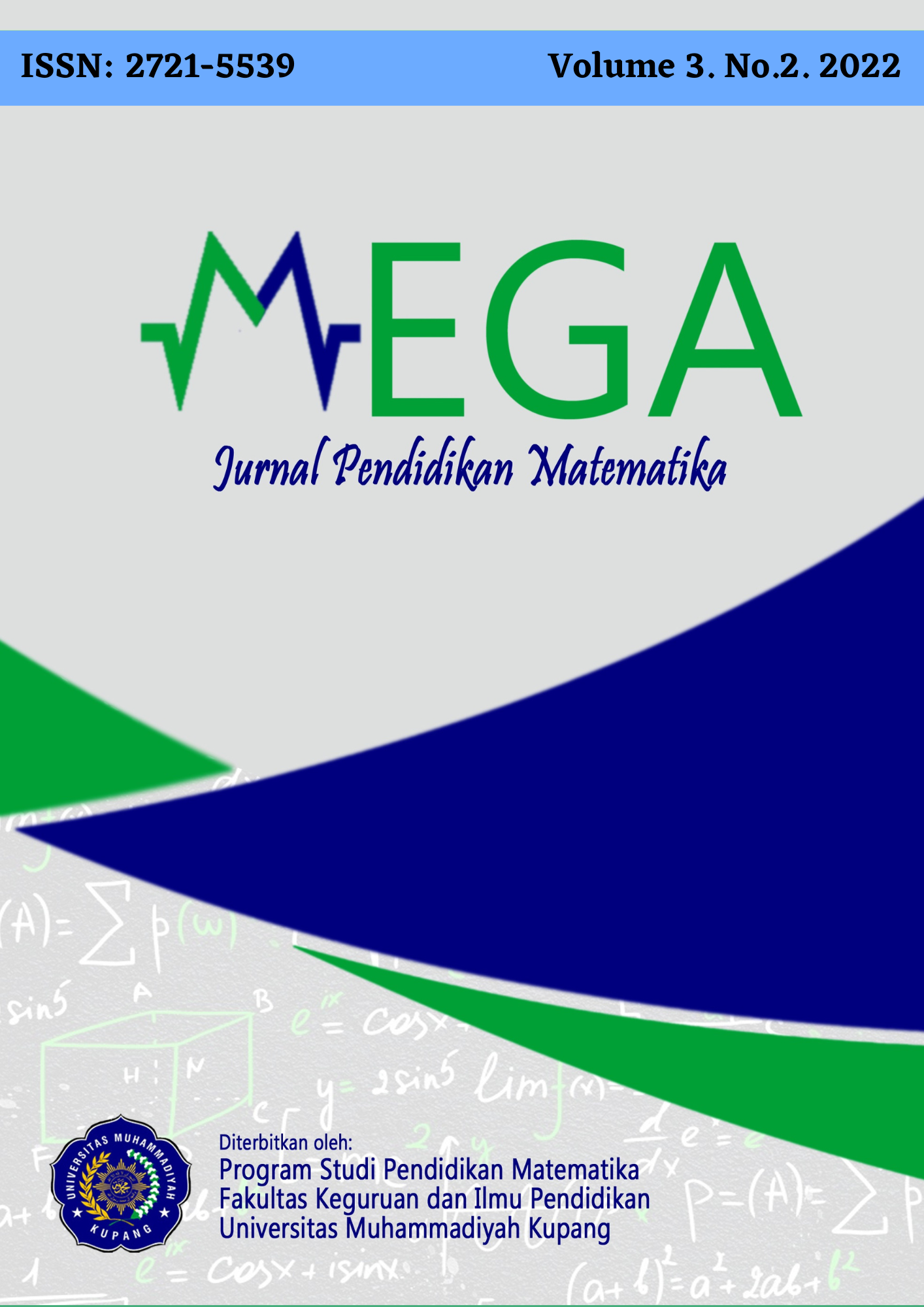 How to Cite
Kasim, D. S., Ralmugiz, U., & Aba, M. M. (2023). PENGEMBANGAN VIDEO PEMBELAJARAN MATERI GARIS DAN SUDUT DENGAN MODEL DISCOVERY LEARNING UNTUK MENINGKATKAN KEMAMPUAN PEMECAHAN MASALAH MATEMATIS SISWA KELAS VII TAHUN AJARAN 2021/2022. MEGA: Jurnal Pendidikan Matematika , 3(2), 471-480. https://doi.org/10.59098/mega.v3i2.834