PENELITIAN KUANTITATIF STATISTIK PERKEMBANGAN TAHFIDZ MAHASISWA PASCASARJANA UMT TAHUN 2023
rukmono

universitas muhammadiyah tangerang
Abstract
The aim of this research is to tell other the progress tahfidz program graduate student
Universitas Muhammadiyah Tangerang (UMT). This work is a quantitative research, which
is processing data into statistics and make analyze process of tahfidz program especially for
graduate student UMT. Background of this research is because we have not yet any research
focused develop of tahfidz program for graduate student at UMT. Because of that, we can
not evaluate the progress of this program and also we are facing a problem to fixed this
program if there are any something need to fixed. Why we use data of graduate student
UMT? The answer is because they are important person who chosen UMT as a place to
continue their study. Usefulness of this research is Al-Islam Kemuhammadiyahan (AIK) as
a board who responsibilities this program finally has a guide to evaluate develop this
program. Base this research, AIK can fixed problem this program if there are any something
needed to fix for better forward. In this research we use statistics quantitative to process
data. We are transform data into graphics so that we can see easily the progress of graduate
student tahfidz program. Not only that of our work, we also did count percentage of their
progress every single week form week 84-85, 85-86, 86-87, until week 87-88. As a theory,
the result of this research should be the percentage spread from 0% until 100%. Percentage
0% means that there is no one that in a week used by graduate student to do tahfidz, instead
of that, percentage 100 % giving mean that students use fully 7 days in a week to do tahfidz.
Keywords: Quantitative, Statistics, Tahfidz, Graduate, Student
References
Arikunto, S. (2010). Manajemen Penelitian. Jakarta: Rineka Cipta.
Creswell, J. W. (2010). Research Design: Pendekatan Kualitatif, Kuantitatif, dan Mixed.
Yogyakarta: Pustaka Pelajar
Dini, M., Wijaya, T. T., & Sugandi, A. I. (2018). Pengaruh Self Confidence Terhadap
Kemampuan Pemahaman Matematik Siswa SMP. Jurnal Silogisme: Kajian
Ilmu Matematika Dan Pembelajarannya, 3(1), 1–7.
https://doi.org/10.24269/js.v3i1.936
Dwirahayu, G., Kustiawati, D., & Bidari, I. (2018). Pengaruh Habits Of Mind terhadap
Kemampuan Generalisasi Matematis. Jurnal Pendidikan Matematika (JPPM), 11(2),
91–104.
Heryanto, N. & Dkk, 2013. Statistika Pendidikan. Jakarta: Universitas Terbuka.
Malasari, P. N., Herman, T., & Jupri, A. (2019). Kontribusi Habits of Mind Terhadap
Kemampuan Literasi Matematis Siswa pada Materi Geometri. Jurnal Pendidikan
Matematika (Kudus), 2(2), 153–164
Nuraeni, R., & Luritawaty, I. P. (2017). Perbandingan Kemampuan Pemahaman
Matematis Siswa Antara yang Menggunakan Pembelajaran Inside-OutsideCircle dengan Konvensional. Mosharafa: Jurnal Pendidikan Matematika, 6(3),
441–450
Qadarsih, N. D. (2017). Pengaruh Kebiasaan Pikiran (Habits of Mind) terhadap
Penguasaan Konsep Matematika. Jurnal SAP, 2(2), 181–185
Rohani, A. (2004). Pengelolaan Pembelajaran. Jakarta: Rineka Cipta
Rohman, T., Surachmi, S. W., & Murtono. (2021). Pengaruh Model Think Pair Share
dan Media Crossword Puzzle untuk Meningkatkan Minat Belajar Matematika
Siswa Sekolah Dasar di Ngembalrejo Bae Kudus. Jurnal PAJAR (Pendidikan Dan
Pengajaran), 5(6), 1544–1549
Setiawan, D. (2021). Peningkatan Hasil Belajar Matematika pada Siswa Kelas VII
TKB Mandiri Montong Buwuh II Melalui Media Pembelajaran Crossword
Puzzle. Jurnal Ilmiah IKIP Mataram,
8(1), 1–11.
Sudjana, 2009. Metode Statistika. Bandung: Tarsito.
Sugiyono, 2007. Statistika Untuk Penelitian. Bandung: Alfabeta.
Sugiyono, 2013. Metode penelitian Manajemen. Pendekatan kuantitatif, kualitatif,
kombinasi, tindakan kelas dan evaluasi. Bandung: Alafabeta., pp. 3.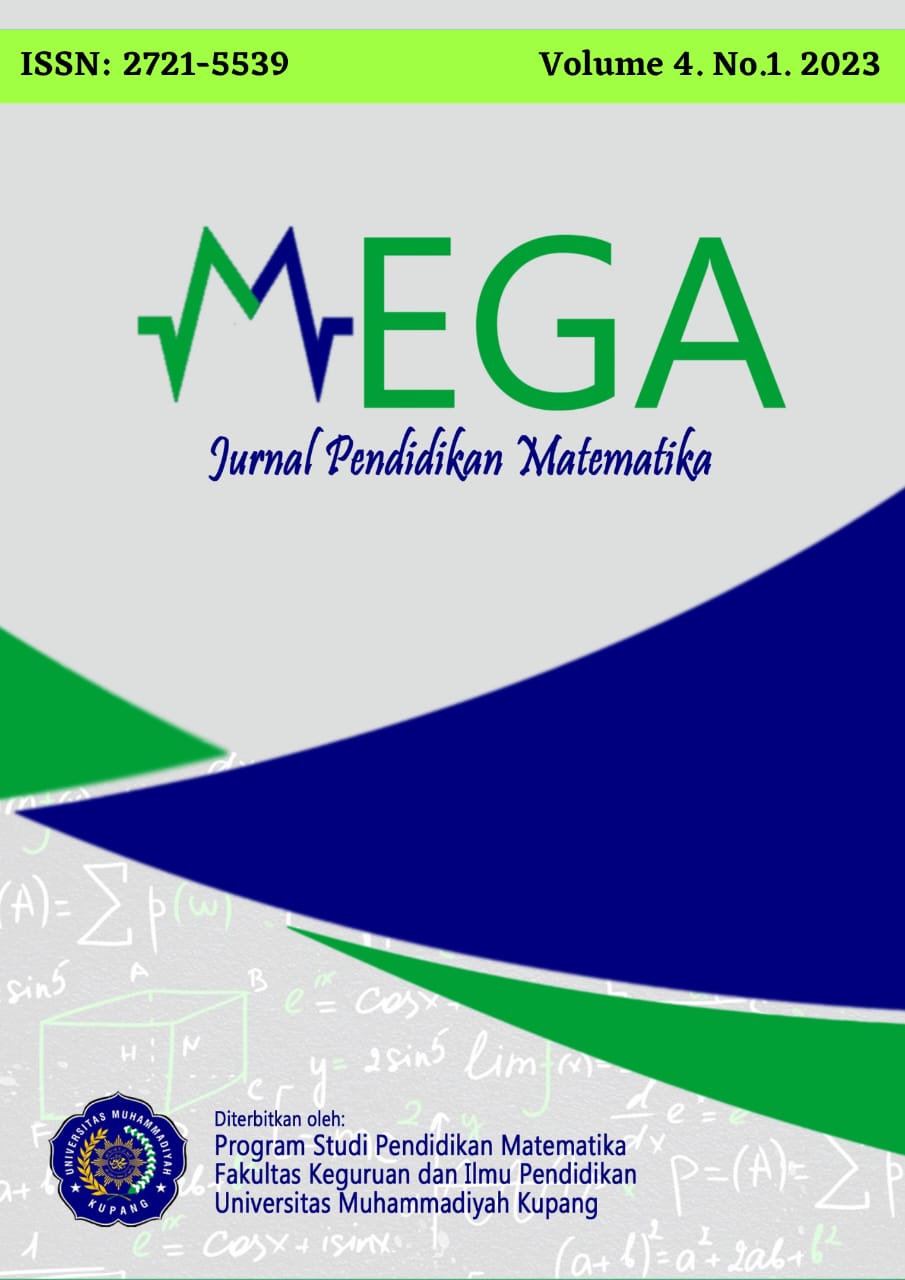 How to Cite
rukmono. (2023). PENELITIAN KUANTITATIF STATISTIK PERKEMBANGAN TAHFIDZ MAHASISWA PASCASARJANA UMT TAHUN 2023. MEGA: Jurnal Pendidikan Matematika , 4(1), 525-531. https://doi.org/10.59098/mega.v4i1.966