PENGEMBANGAN PERANGKAT PEMBELAJARAN DENGAN MODEL PROBLEM BASED LEARNING (PBL) MATERI BANGUN RUANG SISI DATAR PADA SISWA KELAS VIII SMP MUDER TERESA
Simon Seli Tokan

Universitas Muhammadiyah Kupang

Uke Ralmugiz

Universitas Muhammadiyah Kupang

St. Muthmainnah Yusuf

Universitas Muhammadiyah Kupang
Keywords:
Problem Based Learning, Ability, Independence, Mathematics
Abstract
Development of Learning Devices Using a Problem Based Learning (PBL) Model for Building Flat Sided Spaces for Class VIII Students of Muder Teresa Middle School for the
2020/2021 Academic Year. Thesis for the Mathematics Education Study Program, FKIP, Muhammadyah University, Kupang. This study aims to produce learning tools in the form of lesson plans and worksheets on flat sided geometric shapes using a problem-based learning model for class VIII students of SMP Muder Teresa Kupang who have valid, practical and effective qualifications. This research is development research using the modified ADDIE model which includes analysis, design, development, implementation, and evaluation with 10 respondents. The data collection technique used was lesson plan assessment sheets, LKS assessment sheets and tests. To test the validity of the data, practicality, and effectiveness used analytical techniques. Based on the results of the analysis, it is known that the development of mathematics learning tools using a problembased learning model to improve the ability and independence of learning mathematics for Grade VIII students of SMP Muder Teresa, Kupang, is feasible to use.
References
Depdiknas (2007) Kajian Kebijakan Kurikulum Mata Pelajaran Matematika. Badan Penelitian dan Pengembangan: Puskur.
Depdiknas, (2008). Panduan Pengembangan Bahan Ajar. Jakarta: Direktorat Jenderal Manajemen Pendidikan Dasar dan Menengah.
Kemendikbud,(2013). Permendikbud Nomor 81A Tahun 2013 tentang Implementasi Kurikulum dan Pedoman Umum Pembelajaran.
Majid,(2006). Perencanaan Pembelajaran Mengembangkan Standar Kompetensi Guru. Bandung: PT. Remaja Rosdakarya Offset.
Nugroho, (2014). Pengembangan RPP dan LKS Berbasis Problem Based Learning Pada Materi Himpunan untuk Siswa SMP Kelas VII. Skripsi. Yogyakarta: Universitas
Negeri Yogyakarta.
Pitadjeng, (2015). Pembelajaran Matematika yang Menyenangkan. Yogyakarta : Graha Ilmu.
Roosbiyantana, (2007). Mengenal Bangun Ruang Sisi Datar. Yogyakarta: PT Citra Aji Darawa.
Rusman, (2011). Model Pembelajaran Mengembangkan Profesionalisme Guru. Jakarta: PT Raja Grafindo.
Sujadi. (2002). Metodologi Penelitian Pendidikan. Jakarta: Rineka Cipta.
Suherman. E, (2001). Pembelajaran matematika konteporer. Bandung: JICA
Supinah dan Titik Sutanti,(2010). Pembelajaran Berbasis Masalah Matematika di SD. Yogyakarta: PPPPTK Matematika.
Trianto, (2009). Mendesain model pembelajaran inovatif-progresf. Konsep Landasan, dan Implementasinya Pada Kurikulum Tingkat SatuanPendidikan (KTSP). Jakarta
:Kencana.
UU N0.20 Tahun 2003 SISDIKNAS Pasal 3. Tentang sistem pendidikan nasional. Jakarta
Wena, (2009). Strategi Pembelajaran Inovati Kontemporer: Suatu Tinjauan Konseptual Operasional. Jakarta:Bumi Aksara.
Widjajanti, (2011). Problem-Based Learning dan Contoh Implementasinya. Prosiding. Seminar. Yogyakarta: FMIPA UNY.
Widodo,dan Jasmadi, (2008). Buku Panduan Menyusun Bahan Ajar. Jakarta :PTElex Media Komputindo.
Widoyoko, (2009). Evaluasi Program Pembelajaran (Panduan Praktis bagi Pendidik dan Calon Pendidik). Yogyakarta: Pustaka Pelajar.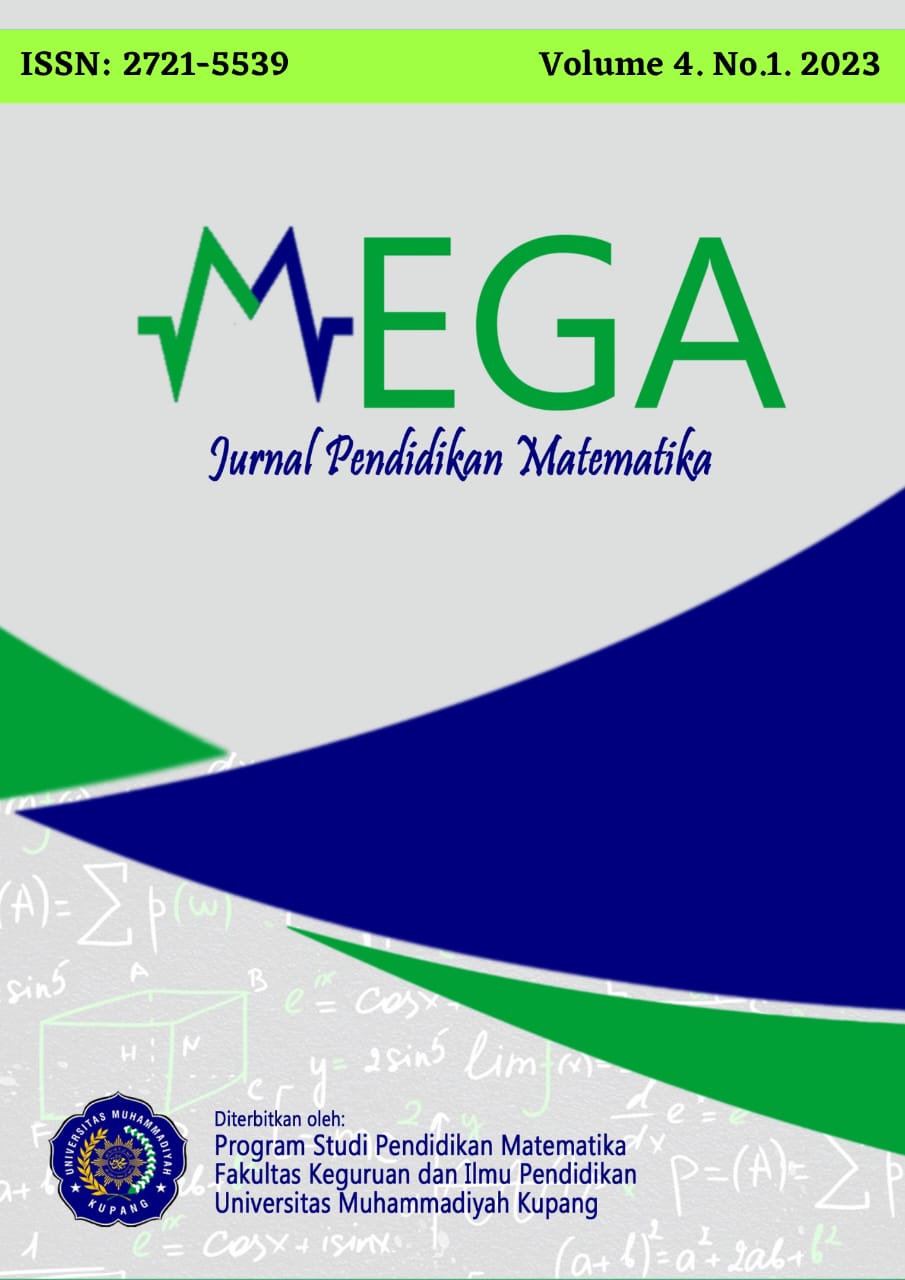 How to Cite
Tokan, S. S., Ralmugiz, U., & Yusuf, S. M. (2023). PENGEMBANGAN PERANGKAT PEMBELAJARAN DENGAN MODEL PROBLEM BASED LEARNING (PBL) MATERI BANGUN RUANG SISI DATAR PADA SISWA KELAS VIII SMP MUDER TERESA. MEGA: Jurnal Pendidikan Matematika , 4(1), 558-564. https://doi.org/10.59098/mega.v4i1.993