THE MERARIQ CULTURE OF THE SASAK IN THE PERSPECTIVE OF ISLAMIC SHARIA
Keywords:
Merariq; Sasak ethnic; islamic sharia
Abstract
Indonesia is a country that is rich in unique and interesting cultures and traditions from various parts of the island of Sabang to Merauke which should be proud, preserved and preserved. One of them is the culture that comes from the Sasak tribe in Lombok, West Nusa Tenggara. The Sasak tribe is one of the tribes in Indonesia who live on the island of Lombok using the Sasak language as its regional language. The Sasak tribe has one unique culture that is still practised by its people today, namely the Merariq culture. Merariq culture is one of a series of marriage processes by taking away the beloved bride. However, the merariq culture is considered inappropriate when viewed from Islamic law, which is the religion of the majority of the Sasak people. In Islam, marriage or marriage in terms of its meaning is to gather and unite. Marriage in Islam is an act that is legalized, has the value of worship and is confirmed in the holy book of the Al-Quran. This article aims to explain the contradiction of merariq culture from the perspective of Islamic law. This article uses a literature study research method. The results showed that in this merariq culture not all aspects violate Islamic law, including in merariq culture there is a procession of the marriage contract which is the legal reference for the bride and groom as a halal partner.
References
Ahmad Fathan Aniq, M. (2020). POTENSI KONFLIK PADA TRADISI MERARIK DI PULAU LOMBOK. Wikipedia.Com, 0–26.
Al-amin, H., & Asrar, M. S. K. (n.d.). PERSPEKTIF HUKUM ISLAM TERHADAP ADAT PRA- PERKAWINAN MERARIK ( Studi Kasus di Desa Wanasaba Kec. Wanasaba Kab. Lombok Timur ). 2(2), 53–59.
Amalia, annisa R. (2017). TRADISI PERKAWINAN MERARIQ SUKU SASAK DI LOMBOK.
Anggraini, N. (2018). Nilai-Nilai Pancasila dalam Merariq pada Mayarakat Sasak. 5(1), 158–170.
Datuk, A., Syahrul, S., & Bora, E. (2020). Tingkat Pendidikan Sebagai Penentu Takaran Belis Pada Gadis Sumba. Al-MAIYYAH : Media Transformasi Gender Dalam Paradigma Sosial Keagamaan, 13(2), 120–135. https://doi.org/10.35905/al-maiyyah.v13i2.721
Haq, H. S., & Hamdi. (2016). PERKAWINAN ADAT MERARIQ DAN TRADISI SELABAR DI MASYARAKAT SUKU SASAK. Perspektif, XXI(3), 157–167.
Noorsiana, E. (2006). Adat Kawin Lari 'Merariq atau Besebo' di Tinjau Dari Hukum Perkawinan Dan Hukum Pidana. 1–102.
Nurhayati, A. (2011). Pernikahan dalam Perspektif Al-Quran. Asas, 3(1), 332–333.
Putro, W. D. (2013). Perselisihan Sosiological Jurisprudace Dengan Mazhab Sejarah Dalam Kasus 'Merarik'. Jurnal Yudisial, 6(1), 48–63.
Sakban, A., & Resmini, W. (2018). Kearifan Lokal (Sasambo) sebagai pedoman Hidup Masyarakat Multikultural dalam Menghadapi Era Revolusi Industri 4.0 di Indonesia. Prosiding Seminar Nasional Lembaga Penelitian Dan Pendidikan (LPP) Mandala, 0(September), 61–71. Mataram: Universitas Muhammadiyah Mataram. http://dx.doi.org/10.1234/.v0i0.380
Suprapto. (2017). Sasak muslims and interreligious harmony: Ethnographic study of the perang topat festival in Lombok—Indonesia. Journal of Indonesian Islam, 11(1), 77–98. https://doi.org/10.15642/JIIS.2017.11.1.77-98
Syahrul, S. (2017). Dilema Feminis Sebagai Reaksi Maskulin dalam Tradisi Pernikahan Bugis Makassar. AL-MAIYYAH : Media Transformasi Gender Dalam Paradigma Sosial Keagamaan, 10(2), 313–334. Retrieved from http://ejurnal.stainparepare.ac.id/index.php/almaiyah/article/view/510
Team Berugaq Institute. (2015). SASAK; Siapa, Bagaimana, dan Mau Ke Mana? (I. M. Salimudin & M. S, Eds.). Yogyakarta: Berugaq Press.
Wibisana, W. (2016). Pernikahan dalam Islam. Jurnal Pendidikan Agama Islam - Ta'lim, 14(2), 185–193.
Widodo, A. (2020). Nilai Budaya Ritual Perang Topat Sebagai Sumber Pembelajaran IPS Berbasis Kearifan Lokal di Sekolah Dasar. Gulawentah:Jurnal Studi Sosial, 5(1), 1–16. https://doi.org/10.25273/gulawentah.v5i1.6359
Widodo, A., Maulyda, M. A., Fauzi, A., Sutisna, D., Nursaptini, N., & Umar, U. (2020). Tolerance Education Among Religious Community Based on the Local Wisdom Values in Primary Schools. Proceedings of the 1st Annual Conference on Education and Social Sciences (ACCESS 2019), 465(Access 2019), 327–330. Paris, France: Atlantis Press. https://doi.org/10.2991/assehr.k.200827.082
Zuhdi, M. H. (2018). KEARIFAN LOKAL SUKU SASAK SEBAGAI MODEL PENGELOLAAN KONFLIK DI MASYARAKAT LOMBOK. MABASAN, 12(1), 64–85. https://doi.org/10.26499/mab.v12i1.34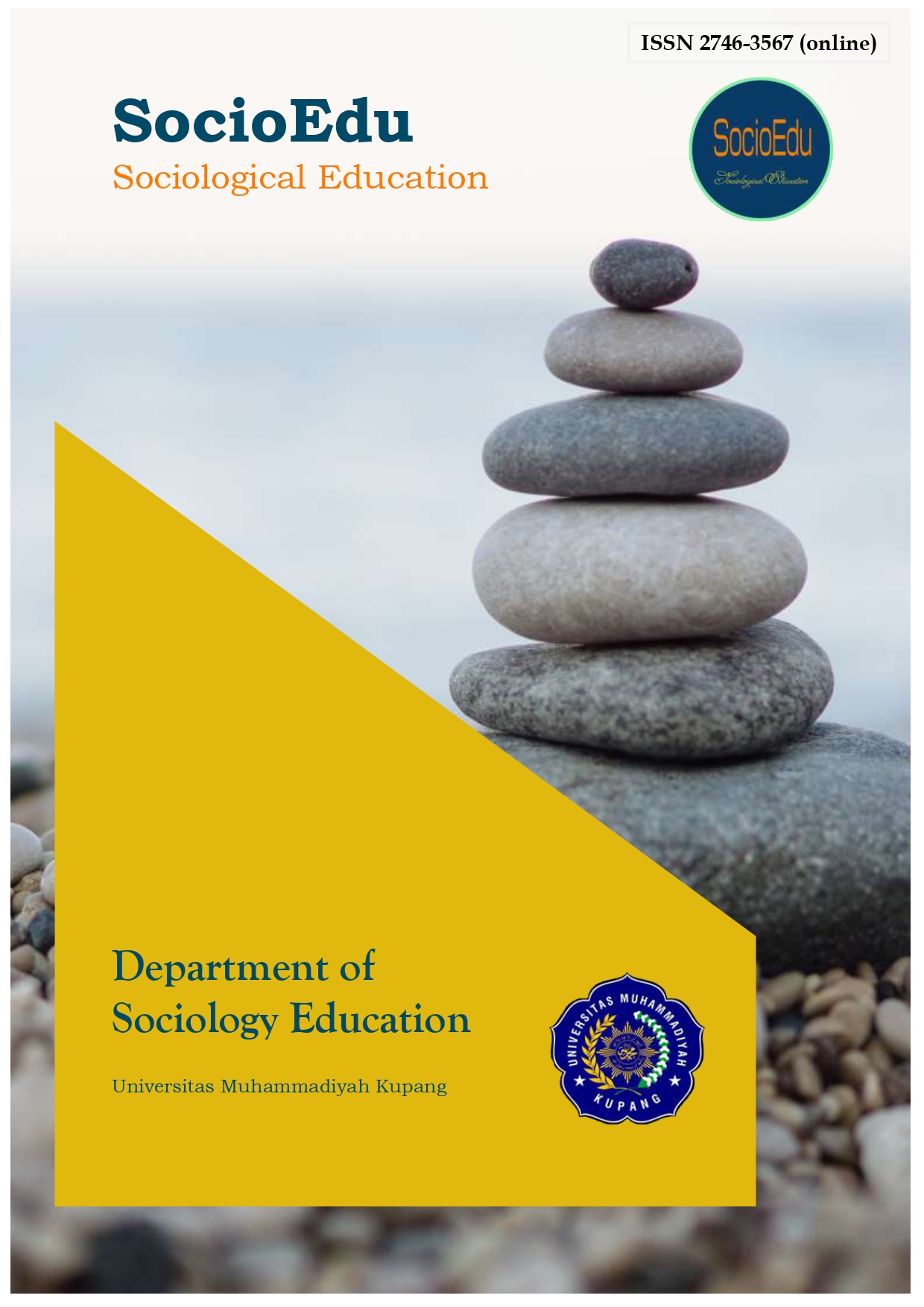 Copyright (c) 2021 Husnul Hotimah, Arif Widodo
This work is licensed under a Creative Commons Attribution 4.0 International License.