THE ROLE OF THE TEACHER TO OVERCOME THE LAZY STUDENTS AT SMA NEGERI 1 ATAMBUA INDONESIA
Melkianus Bisik

SMA Negeri 1 Atambua
Keywords:
Teacher, Students, Learning
Abstract
This qualitative study aimed to (1) knows the factors that cause students to be lazy in learning at SMA Negeri 1 Atambua and (2) know the role of the teacher to overcome those lazy students at SMA Negeri 1 Atambua. The subjects of the study were students, teachers, and vice principals. The data were collected through observation, interviews, and documentation. The data were analyzed through data reduction, data display, and drawing conclusions. The study showed that the factors that cause students to be lazy in learning, such as being full of assignments, learning methods, social environment, cellphone, social media, and poorly organized classrooms. Thus, there were 4 students who only got scores of 63, 66, 64, and 68, while the standard minimum criteria (KKM) was 70. Besides, teachers provided direct personal guidance and visited the students to overcome the lazy students in learning.
References
Chapman, A. (2015). Using the assessment process to overcome Imposter Syndrome in mature students. Journal of Further and Higher Education, 41(2), 112–119. https://doi.org/10.1080/0309877X.2015.1062851
de França Sá, A. L. (2020). Lazy Charity in the School's Context from Paulo Freire's Perspective. Human Arenas, 4(4), 599–606. https://doi.org/10.1007/S42087-020-00141-7
Geiger, M., Spigler, S., Jacot, A., -, al, Paccolat, J., Petrini, L., … Wanto, A. (2019). Analysis of the Factors Causing Lazy Students to Study Using the ELECTRE II Algorithm. Journal of Physics: Conference Series, 1255(1), 012007. https://doi.org/10.1088/1742-6596/1255/1/012007
Israfil. (2021). Profil Kemampuan Metakognisi Siswa Kelas XII SMA Negeri 1 Atambua dalam Pembelajaran Matematika. Ma-tematika dan Pendidikan matematika, 43-52.
Klaudius, A. (2020, Oktober). Anak Malas Belajar Online di rumah? temukan 6 penyebab dan solusinya. Dipetik Febuari Rabu, 2022, dari Popmama: https://www.popmama.com/big-kid/6-9-years-old/alfon/penyebab-dan-cara-mengatasi-anak-malas-belajar
Mandut, L. A., Syahrul, Beni, W. H. T., & Arifin. (2021). Tradisi Wuat Wai (Bekal Perjalanan) sebelum Melanjutkan Pendidikan di Manggarai, Nusa Tenggara Timur. Ideas: Jurnal Pendidikan, Sosial, Dan Budaya, 7(4), 235–242. https://doi.org/https://doi.org/10.32884/ideas.v7i4.528.
Safitri, N. K. E. (2022). The role of emotion and motivation in private lesson learning process. OSF PREPRINTS. https://doi.org/10.31219/OSF.IO/VX2H9
Syahrul, S., Arifin, A., Datuk, A., Almu, F. F., & Ramlah, S. (2019). Pengembangan Bahan Ajar Berorientasi Literasi Kearifan Lokal di Mas Al-Hikmah Soe Nusa Tenggara Timur. JPM (Jurnal Pemberdayaan Masyarakat), 4(2), 371–379. https://doi.org/10.21067/jpm.v4i2.3628
Syahrul, S., & Datuk, A. (2020). Social Behavior of the Children of Newspaper Sellers in Kupang City to Defend Existential at School. NUANSA: Jurnal Penelitian Ilmu Sosial Dan Keagamaan Islam, 17(2), 180. https://doi.org/10.19105/nuansa.v17i2.3299
Syahrul, S., & Kibtiyah, M. (2020). Problematika Pendidikan Anak Jalanan : (Studi Anak Penjual Koran di Kota Kupang). Jurnal Basicedu, 4(4), 1336–1349. https://doi.org/10.31004/basicedu.v4i4.531
Syahrul, S., & Wardana, A. (2018). Analisis kebijakan pendidikan untuk anak jalanan di Kota Yogyakarta. Harmoni Sosial: Jurnal Pendidikan IPS, 4(2), 117–130. https://doi.org/10.21831/hsjpi.v4i2.10388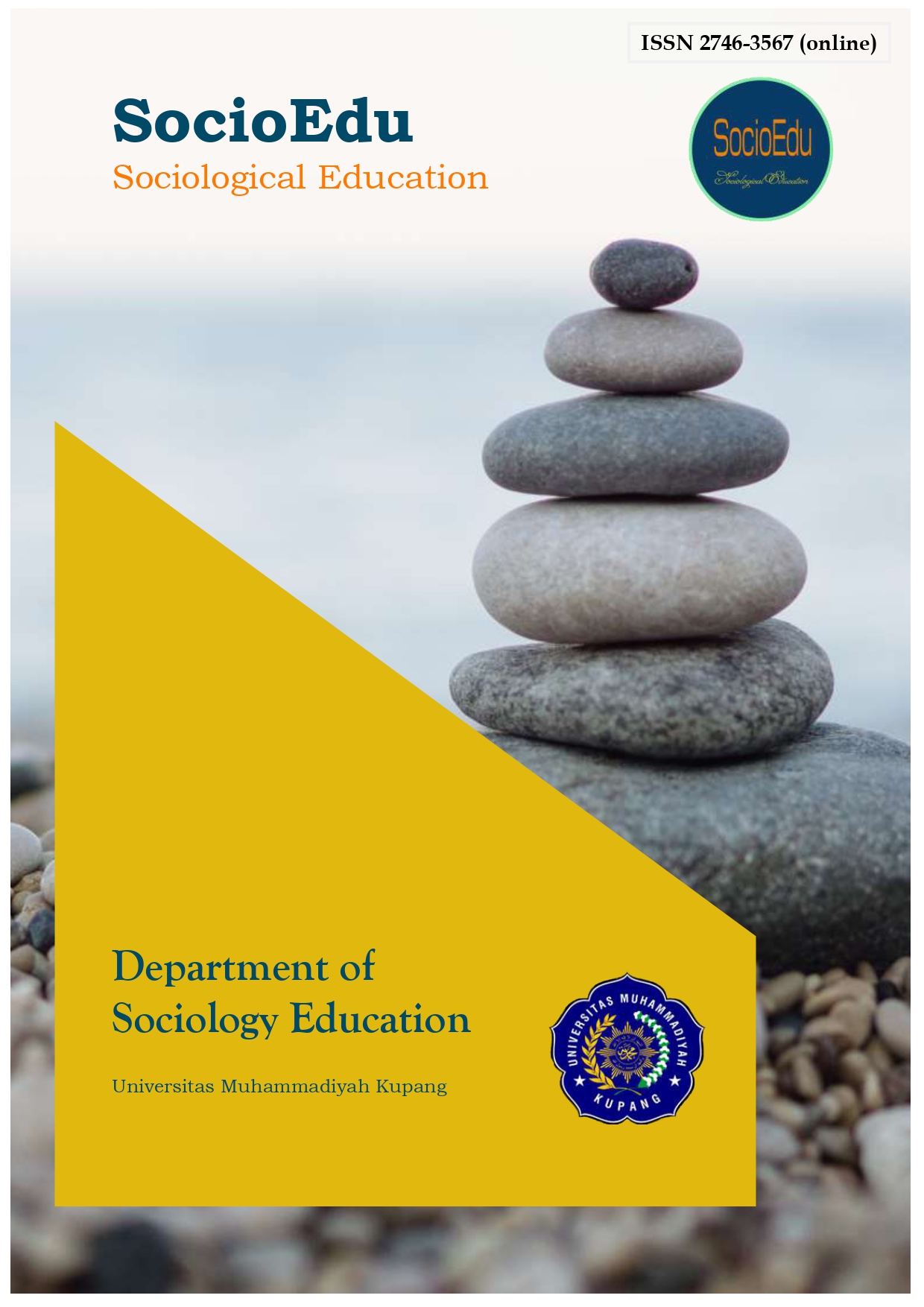 Copyright (c) 2022 Melkianus Bisik
This work is licensed under a Creative Commons Attribution 4.0 International License.