PENGARUH PENEREPAN METODE KARYAWISATA TERHADAP PEMBELAJARAN SOSIOLOGI
Yanto Nong Bola

Universitas Muhammadiayah Kupang
Keywords:
Study Tour, Sociology learning
Abstract
This study aims to determine the application of the field trip method in sociology learning in SMA Negeri 8 Kupang. This research is a quantitative method that is intended to find out whether there is an influence of the study tour method in schools using the formula p = f / nx100%. The subjects of this study were students of class XI IPS 3 even semester 2019-2020 with a total of 29 students. Data collection techniques in this study using questionnaires and test results. The results of this study indicate that the implementation of learning using the field trip method in sociology subjects can influence student learning outcomes with a percentage of 87.24%. This result can also be known from the student learning outcomes with an average of 79.3 or with a percentage of completeness of 86.20%. This result has reached the KKM standard determined by the SMA Negeri 8 Kupang which is 70.
References
Astuti, Y. A. (2013). MODEL PEMBELAJARAN KOOPERATIF TIPE TGT (TEAMS GAMES TOURNAMENT) UNTUK MENINGKATKAN PRESTASI BELAJAR SOSIOLOGI. SOSIALITAS; Jurnal Ilmiah Pend. Sos Ant, 3(1). Retrieved from http://www.jurnal.fkip.uns.ac.id/index.php/sosant/article/view/2218
Darmani, J. W., & Renaldi, A. (2018). Analisis Kemampuan Pemecahan Masalah Matematis: Dampak Model Pembelajaran Reciprocal Teaching Dengan Fieldtrip. Desimal: Jurnal Matematika, 1(3), 373–380. https://doi.org/10.24042/djm.v1i3.3108
Forsey, M. (2015). Learning to Stay? Mobile Modernity and the Sociology of Choice. Mobilities, 10(5), 764–783. https://doi.org/10.1080/17450101.2014.927202
Howard, J. R., Novak, K. B., Cline, K. M. C., & Scott, M. B. (2014). Another Nibble at the Core: Student Learning in a Thematically-Focused Introductory Sociology Course. Teaching Sociology, 42(3), 177–186. https://doi.org/10.1177/0092055X14527422
Jumiati, J. (2017). Penerapan Metode Karya Wisata pada Konsep Dasar IPA MI/SD Materi Perkembangbiakan untuk Meningkatkan Motivasi Belajar Mahasiswa PGMI. Muallimuna : Jurnal Madrasah Ibtidaiyah, 2(2), 19–27. https://doi.org/10.31602/muallimuna.v2i2.765
Juniarti, Y. (2015). Peningkatan Kecerdasan Naturalis Melalui Metode Kunjungan Lapangan (Field Trip): Jurnal Pendidikan Usia Dini, 9(2), 267–284. https://doi.org/10.21009/JPUD.092.05
Killian, M., & Bastas, H. (2015). The Effects of an Active Learning Strategy on Students' Attitudes and Students' Performances in Introductory Sociology Classes. Journal of the Scholarship of Teaching and Learning, 15(3), 53–67. Retrieved from https://eric.ed.gov/?id=EJ1064430
Luna, Y. M., & Winters, S. A. (2017). "Why Did You Blend My Learning?" A Comparison of Student Success in Lecture and Blended Learning Introduction to Sociology Courses. Teaching Sociology, 45(2), 116–130. https://doi.org/10.1177/0092055X16685373
Molina, M., & Garip, F. (2019). Machine Learning for Sociology. Annual Review of Sociology, 45(1), 27–45. https://doi.org/10.1146/annurev-soc-073117-041106
Prastowo, A. (2015). Perubahan Mindset Dan Kesiapan Guru Sekolah Dasar Dalam Persaingan Pendidikan Di Era MEA. Prosiding Seminar Nasional, 9.
Rabiyah, S. (2014). Pengaruh Disiplin Belajar Anak dalam Keluarga Terhadap Prestasi Belajar Siswa Kelas XI IPS di Madrasah Aliyah Negeri Kupang. Universitas Muhammadiyah Kupang.
Sin, C. (2014). Epistemology, Sociology, and Learning and Teaching in Physics. Science Education, 98(2), 342–365. https://doi.org/10.1002/sce.21100
Sorokin, P. (2017). Vision and Mission of Sociology: Learning from the Russian Historical Experience. The American Sociologist, 48(2), 135–171. https://doi.org/10.1007/s12108-016-9303-3
Syahrul, S. (2018). Kritik Ideologi Pendidikan Karakter dalam Masyarakat Demokrasi di Indonesia. Seminar Nasional Pendidikan Dan Kewarganegaraan IV, 0(0), 58–67. Retrieved from http://seminar.umpo.ac.id/index.php/SEMNASPPKN/article/view/158
Syahrul, S. (2020). Menanamkan Kemuhammadiyaan Pada Mahasiswa Non-Muslim Melalui Pendidikan Multikultural di Universitas Muhammadiyah Kupang. EDUKASI: Jurnal Penelitian Pendidikan Agama Dan Keagamaan, 18(2). https://doi.org/10.32729/edukasi.v18i2.643
Wahyuni, W., Masudi, M., & Sahib, A. (2019). Penerapan metode karya wisata dalam meningkatkan motivasi belajar siswa pada bidang Studi Agama Islam di SMA n 06 Rejang Lebong (Diploma, IAIN CURUP). IAIN CURUP. Retrieved from http://e-theses.iaincurup.ac.id/170/
Widia, V., Indihadi, D., & Ws, R. (2016). Pengaruh Metode Karya Wisata Terhadap Hasil Belajar Siswa Tentang Ekonomi Masyarakat Sekitar. PEDADIDAKTIKA: Jurnal Ilmiah Pendidikan Guru Sekolah Dasar, 3(1), 117–128. Retrieved from https://ejournal.upi.edu/index.php/pedadidaktika/article/view/5099
Yusuf, M. (2015). Metode Penelitian Kuantitatiif,Kualitatif & Penelitian Gabungan. Prenada Media. Jogjakarta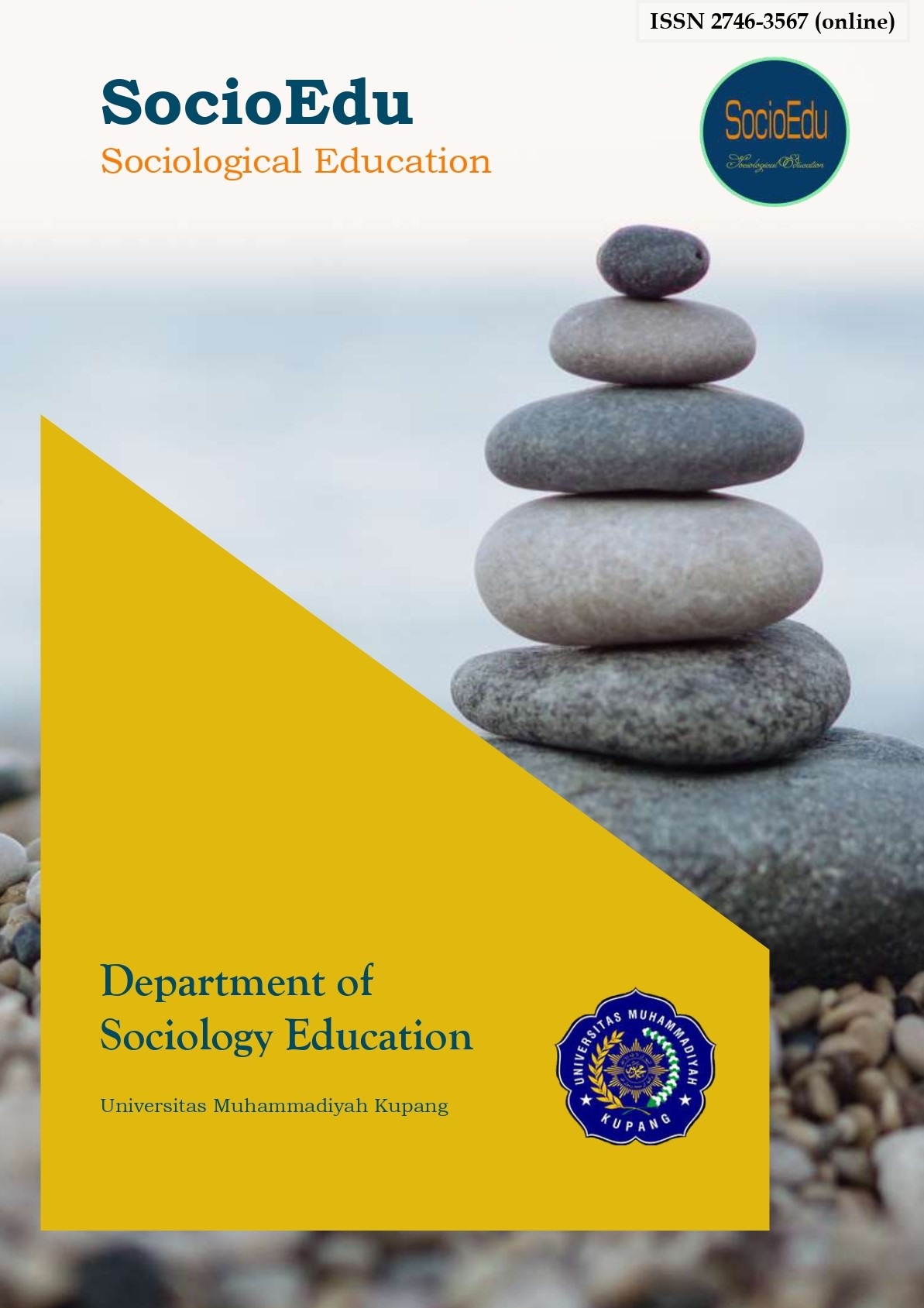 Copyright (c) 2020 Yanto Nong Bola
This work is licensed under a Creative Commons Attribution 4.0 International License.